June 7, 2016
Take a look at WT8WV's blog, he has added a number of really good System Fusion video links.  Here is a direct link to his blog's search results when you search for fusion.  https://kb8fir.wordpress.com/?s=fusion.
May 28, 2016 Antenna Building Workshop & Bunny Hunt:
Below is a video of the event, we had a great day.  Bob West, WA8YCD taught the antenna building workshop.  Jim Seckel, KC8YUI took charge of the bunny hunt.  Mig Crowe, K8MIG, set up our information table.  The WVU Amateur Radio Club also participated in the event.  Special thanks to all participants and our club members who were on hand to help.
February 16, 2016:
Our VE session went well, 3 individuals took exams.  One person passed their technician exam and two other individuals passed their extra exam.  Roy Nutter, N8BHI gave a presentation titled, "What is all this stuff about battery fires?".    The slides and links to the videos from the presentation can be found here.
January 19, 2016 VE Session Update:
During our January 19, 2016 meeting we had a great turn out for the VE session.  Thirteen individuals took exams.  Out of the 13 who took the amateur radio exams.  Four people passed the technician amateur radio license exam, three people upgraded to general class and four upgraded to extra class.  Special thanks to our VE coordinator Bob West (WA8YCD) and the rest of the VE's who graded the exams and helped out with the paperwork.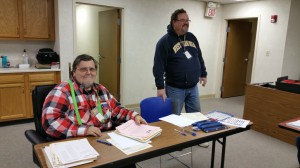 Send Us Your Pictures:
We need your shack, mobile, new antenna, anything ham radio or electronics pictures. Share what you are doing at your station to inspire and inform others. Have you built a new antenna? Send us a picture of it or the assembly process we may even have you write a article with it. Send your pictures via email to monongalia.wireless@gmail.com