COMING SOON !!!
We will be replacing our old repeater with a Yaesu DR-1X repeater.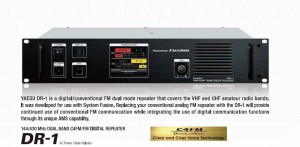 System Fusion FAQ-From Cory – WA3UVV
Current Repeater
Since the 1970's the W8MWA repeater has been known as one of the widest coverage repeaters in the area. With it's antennas located 250 ft. up on the WNPB tower on Chestnut Ridge It has provided reliable coverage for most of North Central West Virginia, Southwestern Pennsylvania and parts of Eastern Ohio. Net check-ins from Stubenville, OH, Pittsburgh and Elkins are common place. Due to antenna orientation on the WNPB tower, coverage to the East is somewhat limited.
RADIOS:
Since the mid 1970's the transmitter and receiver for the UHF and VHF sides of the repeater have been RCA 500 Series Carphones. These were manufactured at the RCA plant in nearby Bridgeville, PA. The RCA 500 is a unique hybrid transmitter. Everything is solid state with the exception of the RF final that uses a conduction cooled 8072 tube which was not commonly used among manufacturers of the period.  The time proven stability of these radios has been nothing but remarkable. These radios are hands off and do not require constant frequency or audio adjustments.
---
CONTROLLER:
As of April 15th, 2012 we have been using the Arcom RC210 repeater controller for the VHF, UHF and remote base radios. At the bottom of this page you will find instructions of how to control the repeater through DTMF codes from your radio. We are currently working to provide "S Meter " readings for received signal reports.
REPEATER ABUSE:
While monitoring the repeater if you hear someone attempting to abuse or interfere with the repeaters normal operation or someone using abusive language, please notify someone on the repeater committee  below immediately so they may take corrective action.
REPEATER TECHNICIAN: Bill WR8S (304) 288-9508
REPEATER TRUSTEE:  Randy N8OZY